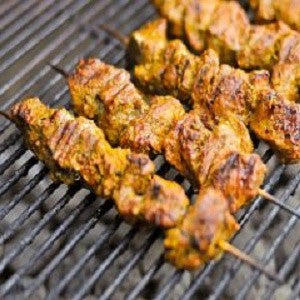 Pork Skewers, Pinchos de Cerdo Recipe
---
Ingredients:
6 garlic cloves (peeled)
2 tsp salt
1 1/2 tsp pepper
3 tsp dried oregano
3 tsp olive oil
3 tsp white vinegar
1 lb boneless pork shoulder
Procedure:

Using a pilón (mortar), mash the garlic cloves and salt into a paste. Mix in the pepper and oregano. Stir in the olive oil and vinegar. Set the marinade aside. Cut the pork into 1 inch cubes. Cover the pork pieces with the marinade and let set in the refrigerator for about 20 minutes. Skewer the pork pieces and grill for about eight minutes, turning occasionally for even grilling.
---
Share this Product
---
More from this collection
Liquid error (layout/theme line 443): Could not find asset snippets/spurit_uev-theme-snippet.liquid