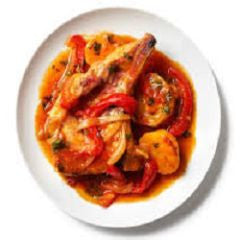 ---
Ingredients:
6 pork loin chops (1 1/2-inch-thick)
2 tsp butter
2 tsp olive oil
1 cup dried apricot, halved
3/4 cup golden raisin
1/2 cup slivered almonds
3 cups orange juice
1 tsp grated orange zest
1 tsp grated fresh gingeroot
1/2 tsp ground cinnamon
1/2 tsp grated nutmeg
Salt to taste
Pepper to taste
avocado (to garnish)
Procedure:
In a large heavy skillet, melt butter with olive oil over medium-high heat and quickly brown chops on both sides. Remove chops to a deep casserole dish with a lid, mix together all other ingredients and add to casserole dish. Cover and bake at 350 degrees oven for 45 minutes, until pork is tender. Dish may be uncovered for the last 10 to 15 minutes. Serve with white rice and avocado.
---
Share this Product
---
More from this collection
Liquid error (layout/theme line 443): Could not find asset snippets/spurit_uev-theme-snippet.liquid