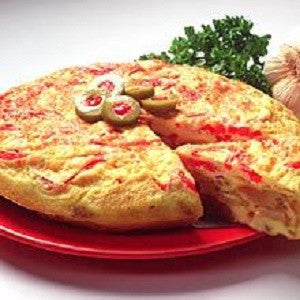 Potato Omelet, Tortilla de Papas Recipe
---
Ingredients:
1 cup olive oil
1 1/2 lbs potatos cut into cubes
1 1/2 cups diced onions 
7 large eggs 
1 tsp Goya adobo
Procedure:
In a skillet, heat oil on low. Add potatoes and onions and cook, turning occassionally until potatoes are tender. Strain in colander, reserving the flavored oil. In bowl, whisk eggs and adobo. Add strained potato mixture and allow to sit for 5 minutes. Meanwhile in same skillet, heat 1 tbsp of reserved oil on low. Add egg mixture and cook until almost cooked through and bottom begins to lightly brown about 10 minutes. Slide the tortilla on to a plate. Invert another plate over the tortilla and turn the plates upside down so you can slide the tortilla back into the skillet cooked side up. Continue to cook until completely set about 10 minutes. Slide on to a serving plate and cool. 
---
Share this Product
---
More from this collection
Liquid error (layout/theme line 443): Could not find asset snippets/spurit_uev-theme-snippet.liquid