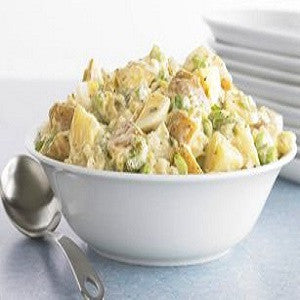 Potato Salad, Ensalada de Papas Recipe
---
Ingredients:
1/2 cup mayonnaise
1 tbsp yellow mustard 
1/2 tsp celery seed 
1/2 tsp salt 
1/8 tsp pepper 
4 cups cubed potatoes, cooked 
2 hard boiled eggs, chopped 
1 onion, chopped 
2 stalks celery, sliced 
1/3 cup dill pickle relish
Procedure:
Mix mayonnaise, mustard, celery seed, salt and pepper in large bowl. Add potato, eggs, onion, celery and relish, mix lightly. Refrigerate several hours or until chilled.
---
Share this Product
---
More from this collection
Liquid error (layout/theme line 443): Could not find asset snippets/spurit_uev-theme-snippet.liquid