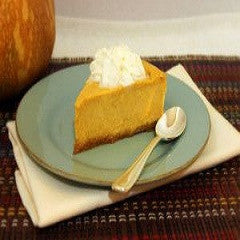 Pumpkin Cheesecake Recipe
---
Ingredients:
16oz cream cheese, softened
1/2 cup canned pumpkin

1/4 cup sugar

1 tsp pumpkin pie spice

2 eggs

1 pie crust
Procedure:
Preheat oven to 325F beat cream cheese, pumpkin, sugar and spice in a large bowl with an electric mixer on medium speed. Add eggs and whisk until blended well. Pour into the pie base. Bake for 55 minutes. Refrigerate overnight.
---
Share this Product
---
More from this collection
Liquid error (layout/theme line 443): Could not find asset snippets/spurit_uev-theme-snippet.liquid