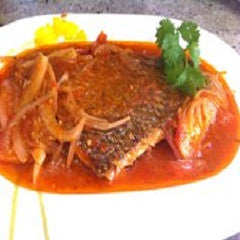 Red Snapper in Creole Sauce Recipe
---
Ingredients:
4 red snapper fillets
1/2 tsp adobo seasoning
2 tbsp olive oil
1 small red onion, thinly sliced
1 small green bell pepper, thinly sliced
2 garlic cloves, minced
1/2 spanish red pimiento, sliced
1 tbsp cider vinegar
1 tsp tomato paste
1/2 cup water
Procedure:
Season fish with adobo. In large skillet, heat oil on medium high. Cook fillet 1 minute on each side amd set aside. Stir onion, green pepper, garlic, pimiento,vinegar, tomato paste and water into skillet. Bring to boil, lower heat, cover and simmer 5 minutes. Return fish to skillet. Cover and simmer until fish is cooked, about 3-5 minutes.
---
Share this Product
---
More from this collection
Liquid error (layout/theme line 443): Could not find asset snippets/spurit_uev-theme-snippet.liquid