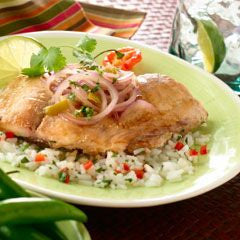 Red Snapper with Cilantro Recipe
---
Ingredients:
4 red snapper fillets
3 cilantro mini cubes, crumbled
1 medium red onion, thinly sliced
2 tbsp lime juice
2 tbsp jalapeno pepper, chopped
2 tbsp jalapeno pepper juice
Procedure:
Combine cilantro, onion, lime juice, jalapeno pepper and jalapeno juice in a shallow 2-quart baking dish. Let stand about 15 minutes, stirring occasionally. Add fish and turn to coat. Bake for about 20 min.
---
Share this Product
---
More from this collection
Liquid error (layout/theme line 443): Could not find asset snippets/spurit_uev-theme-snippet.liquid