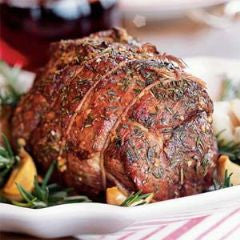 ---
Ingredients:
4 lb lamb 
Salt to taste
Pepper to taste
3/4 cup olive oil 
1/2 cup pearl onions, peeled 
1 bay leaf 
1 carrot, cut in 1/2 inch slices
1/2 cup cherry 
1 1/2 cups white cooking wine
2 cups water
1 chicken bouillon
2 16oz cans small white beans, drained and rinsed.
Procedure:
Season lamb with salt and pepper. In a large flame-proof casserole, sear lamb in olive oil over high heat, turning frequently until browned. Add pearl onions, bay leaf, and carrot, lower heat to medium, add cherry and white wine, and cook over medium heat for 30 minutes, turning and basting lamb frequently. Meanwhile, pre-heat oven to 350º. Stir water and bouillon into casserole around lamb. Add beans, bring to a boil for 2-3 minutes. Cover with aluminum foil and bake in 350º oven for 1 hour, or until lamb is done to taste. Remove bay leaf.
---
Share this Product
---
More from this collection
Liquid error (layout/theme line 443): Could not find asset snippets/spurit_uev-theme-snippet.liquid