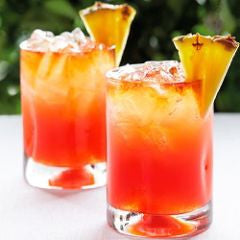 ---
Ingredients:
2/3 cup fresh lime juice
1/3 cup superfine sugar
1 cup golden rum
1/4 cup orange liqueur
1/4 cup grenadine
1 bottle champagne or 1 bottle sparkling wine
Fresh pineapple chunk, for garnish
Procedure:
In a large pitcher, combine the lime juice and sugar and stir briskly until the sugar is dissolved. Add the rum, orange liqueur and grenadine and chill the rum mixture for about 1 hour. Just before serving, add the sparkling wine and pineapple chunks and serve in punch glasses.
---
Share this Product
---
More from this collection
Liquid error (layout/theme line 443): Could not find asset snippets/spurit_uev-theme-snippet.liquid