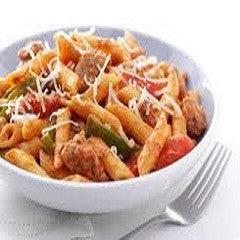 Sausage and Peppers Penne Pasta Recipe
---
Ingredients:
3 cups penne pasta 
1 tsp of olive 
1/2 lb turkey kielbasa sausage, cut into 1/2 inch
1/2 medium green bell pepper, sliced
1 medium onion, sliced 
1 tbsp all purpose flour
1 tbsp chopped fresh cilantro
1/4 tsp ground  garlic cloves
1 mango or peach, cut into 1/2 inch 
2 cans (14oz) whole tomatoes, undrained
Procedure:
Cook and drain pasta. While the pasta is cooking, heat the oil in a 12 inch non stick skillet over medium heat. Cook the sausage, bell peppers, and onion, stirring occasionally, until the onion is tender. Stir in the flour, cilantro, cloves, mango and tomatoes, breaking up tomatoes. Simmer uncovered for 10 minutes. Serve over pasta.
---
Share this Product
---
More from this collection
Liquid error (layout/theme line 443): Could not find asset snippets/spurit_uev-theme-snippet.liquid