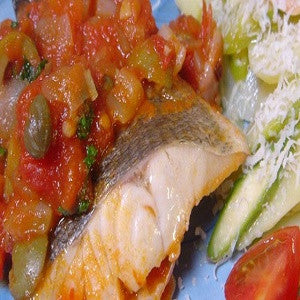 ---
Ingredients:
2 tbsp extra virgin olive oil

1 1/2 cups thinly sliced white onions

2 tbsp minced garlic

4 cups seeded, chopped plum tomatoes

1 1/2 cups dry white wine

2/3 cup sliced stuffed green olives

1/4 cup drained capers

1/8 tsp red pepper flakes

4 (6oz) sea bass fillets

2 tbsp butter

1/4 cup chopped fresh cilantro
Procedure:

Heat oil in a large skillet over medium heat. Saute onions until soft. Stir in garlic, and saute about 1 minute. Add tomatoes, and cook until they begin to soften. Stir in wine, olives, capers, and red pepper flakes. Heat to a simmer. Place sea bass into sauce. Cover, and gently simmer for 10 to 12 minutes, or until fish flakes easily with a fork. Transfer fish to a serving plate, and keep warm. Increase the heat, and add butter to sauce. Simmer until the sauce thickens. Stir in cilantro. Serve sauce over fish.
---
Share this Product
---
More from this collection
Liquid error (layout/theme line 443): Could not find asset snippets/spurit_uev-theme-snippet.liquid