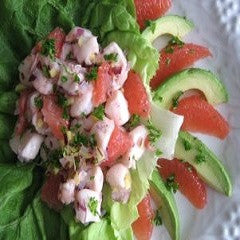 Shrimp Ceviche, Ceviche de Camarones Recipe
---
Ingredients:
1 1/2 lb raw shrimp, peeled and deveined

Juice of 2 lemons

Juice of 2 limes

Juice of 2 oranges

1/2 cup finely chopped red onion

1 cup diced seeded tomato

1 avocado, chopped into 1/2-inch pieces

1 tbsp chopped cilantro leaves

1/4 tsp salt
Procedure:

Chop the shrimp into 1/2-inch pieces and place in a medium nonreactive bowl. Add lemon, lime and orange juice. Stir in onion and refrigerate for 3 hours. Stir tomato, avocado, chopped cilantro and 1/4 tsp salt into the mixture. Let stand at room temperature for 30 minutes before serving. Garnish with cilantro leaves, if desired.
---
Share this Product
---
More from this collection
Liquid error (layout/theme line 443): Could not find asset snippets/spurit_uev-theme-snippet.liquid