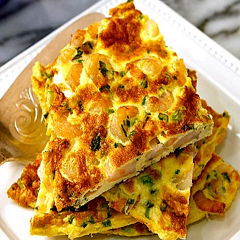 ---
Ingredients:
8 eggs

1/2 cup milk

1/4 cup chopped fresh herbs

Salt to taste

Pepper to taste

12 fresh shrimp

2 tbsp olive oil

6 slices prosciutto ham cut into thin strips
1 lb fresh spinach

Provolone cheese grated 
Procedure:
In a container beat the eggs with the milk, season with herbs salt and pepper. Season the shrimp with salt and pepper and in a frying pan saute with olive oil for about 2 min. Remove the shrimp and add the prosciutto ham and sauté until colored, add the spinach, sauté and add the eggs. Let the tortilla seal for 2 minutes and place the shrimp on the surface and bring it to the oven at 350 degrees until cooked (approximately 15-18 minutes). Finish with grated cheese.
---
Share this Product
---
More from this collection
Liquid error (layout/theme line 443): Could not find asset snippets/spurit_uev-theme-snippet.liquid