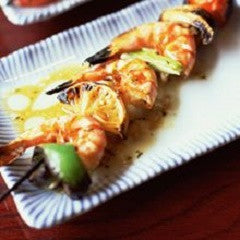 ---
Ingredients:
1 lb jumbo shrimp, peeled and deveined
1 tbsp olive oil
2 garlic cloves, minced 
1 tsp adobo seasoning
1/4 tsp crushed red pepper 
1 red bell pepper, cut in 1 inch pieces
6-8 skewers
Procedure:
Preheat grill In a bowl, combine oil, garlic, adobo and pepper flakes. Set aside. Alternately skewer shrimp and red pepper pieces. Brush with oil mixture. Cook on grill until shrimp are done, about 3-5 minutes. Turn once or twice. If using wooden skewers, soak in water for 10 minutes before using.
---
Share this Product
---
More from this collection
Liquid error (layout/theme line 443): Could not find asset snippets/spurit_uev-theme-snippet.liquid