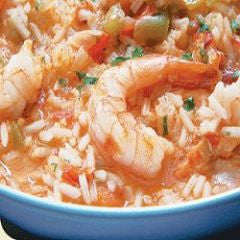 Shrimp Stew, Asopao de Camarones Recipe
---
Ingredients:
1/2 cup olive oil

1 tbsp annato seeds, achiote

1/2 cup chopped onion

6 small red chiles 

4 cloves garlic, minced

8 cups chicken broth

2 cups tomato sauce

4 bay leaves

1 tsp dried oregano

1 tsp salt

32oz frozen mixed vegetables

4 cups cooked white rice

36 medium shrimp
Procedure:
In a large saucepan, heat olive oil and annato seeds over medium-high heat. Cook until the oil turns red and the seeds begin to release their aroma. Remove the oil from heat and strain into a small dish. Discard the seeds. Return the oil to the pan. Add onion and chiles and cook until onion is almost translucent. Add the garlic and cook for 30 seconds. Add broth, tomato sauce, bay leaves, oregano, and salt. Bring the mixture to a boil. Add the frozen vegetables, reduce the heat to medium, cover, and cook until vegetables are nearly tender, about 7 minutes. Add the rice and shrimp. Cover and cook until the shrimp turn pink and are cooked through, about 5 minutes.

---
Share this Product
---
More from this collection
Liquid error (layout/theme line 443): Could not find asset snippets/spurit_uev-theme-snippet.liquid