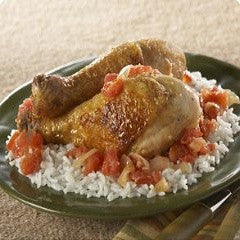 ---
Ingredients:
2 lb chicken drumsticks
1 tsp salt
1/2 tsp ground pepper
2 tbsp vinegar
2 tbsp vegetable oil
3 cloves garlic, minced
1 large onion, chopped
2 large tomatoes, seeded and chopped
1 to 2 locote peppers, seeded and finely chopped
1/2 cup white wine
Procedure:
Season drumsticks with salt, pepper and vinegar. Cover and refrigerate at least 2 hours. Heat oil in a large skillet over medium heat. Sauté drumsticks, 2 minutes per side, until brown. Stir in garlic, onion, tomatoes and locote. Cook 5 minutes. Cover. Reduce heat and simmer 10 minutes. Add wine and cook uncovered 5 to 10 minutes or until drumsticks is fully cooked.
---
Share this Product
---
More from this collection
Liquid error (layout/theme line 443): Could not find asset snippets/spurit_uev-theme-snippet.liquid