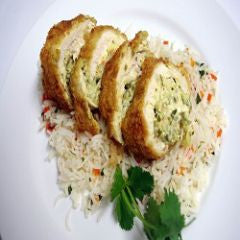 Stuffed Chicken Breast Recipe
---
Ingredients:
4 boneless skinless chicken breasts
4 slices swiss cheese
4oz longaniza sausage or chorizo 
2oz spanish alcaparrado, finely chopped
1/2 chopped red bell pepper
12 slices bacon
1 tsp salt
1 tsp pepper
1 tsp dried oregano
Procedure:
Carefully butterfly the chicken breasts. Stuff each breast with a slice of cheese, longaniza sausage, alcaparrado and peppers. Roll each breast. Season with the salt, pepper and oregano. Roll each breasts in 3 bacon slices. Place in the oven and bake for about 30 min at 350 degrees.
---
Share this Product
---
More from this collection
Liquid error (layout/theme line 443): Could not find asset snippets/spurit_uev-theme-snippet.liquid