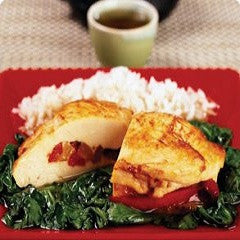 Stuffed Chicken Breast with Spinach Recipe
---
Ingredients:
4 boneless skinless chicken breasts
3 tbsp canola oil (divided)
1 red bell pepper, julienned
1 yellow bell pepper, julienned
1 tsp salt
1 tsp pepper
3 cups chicken stock
1 chicken bouillon cube
1/2 pound spinach leaves
1/4 pound watercress
3 tbsp butter (divided)
1 clove garlic, minced
1 tbsp lemon zest
1 tbsp fresh thyme
Procedure:
Preheat oven to 400º F. In a pan saute over medium-low heat, one tbsp canola oil. Add red and yellow peppers, cook over medium-low heat until slightly browned, about 5 minutes. Refrigerate to cool. Carefully butterfly the chicken breasts. Stuff each breat with the peppers. Season with salt and pepper. In large, ovenproof pan, heat hte remaining two tbsp of canola oil over medium-high heat. Add chicken and sear for 2 minutes. Place pan in oven, cook 8 minutes, then turn and cook additional 4 minutes. While chicken is cooking in oven, place chicken stock and bouillon cube in deep saucepan, bring to a simmer. Add spinach leaves and watercress, stirring and tossing well for about 2-3 minutes. Remove greens from pan, reserving stock. Drain greens on paper towels. Boil stock and cook until liquid is reduced and begins to thicken, about 5 minutes. Whisk in one tbsp butter. Remove chicken from oven, place pan over burner on medium heat and add remaining 2 tbsp butter, garlic, lemon zest and thyme. Baste chicken with butter sauce for thirty seconds, remove pan from heat. To serve, place spinach and watercress leaves in center of bowl or on plate. Top with chicken breast. Spoon sauce over greens.
---
Share this Product
---
More from this collection
Liquid error (layout/theme line 443): Could not find asset snippets/spurit_uev-theme-snippet.liquid