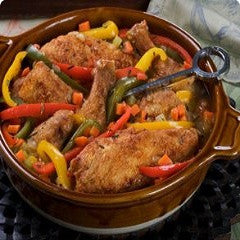 Sweet and Sour Chicken Recipe
---
Ingredients:
1 whole chicken, cut in 8 pieces
1 tbsp olive oil
Salt to taste
Pepper to taste
1 onion, diced finely
1 carrot, peeled and diced finely
1 celery stalk, diced finely
4 cloves garlic, minced
1 tsp dried rosemary, minced
1 tsp dried oregano
1 can (14.5oz) diced tomatoes, drained
1 red bell pepper, julienned
1 green bell pepper, julienned
1 yellow bell pepper, julienned
3/4 cup white wine
2 tbsp balsamic vinegar
Procedure:

In large ovenproof lidded skillet, warm olive oil over medium high heat. Season pieces of chicken with salt and pepper. Place chicken in pan in single layer (in batches, if necessary), and cook chicken, turning, until well browned, about 10 minutes per side. Remove chicken from pan and set aside. Preheat oven to 325° F. Saute the onion, carrot and celery, until slightly softened, about 2 -3 minutes. Add garlic, rosemary and oregano, sauté one minute more. Add tomatoes and peppers, cook 3 – 4 minutes. Add wine, increase heat and boil until liquid reduces by half, about 8 minutes. Add vinegar. Return chicken pieces to pan, cover and place in oven. Cook chicken until tender and cooked through, about 45 minutes.
---
Share this Product
---
More from this collection
Liquid error (layout/theme line 443): Could not find asset snippets/spurit_uev-theme-snippet.liquid