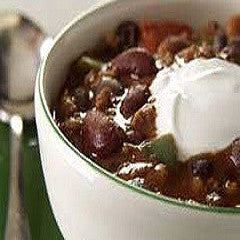 Three Beans Chilli Recipe
---
Ingredients:
2 lb ground beef

1 small yellow onion, chopped

1 small green pepper, chopped

2 cans 16oz kidney beans, undrained

2 cans 16oz pinto beans, undrained

2 cans 16oz black beans, undrained

1 can 14oz diced tomatoes, undrained

1 can 6 oz tomato paste

2 envelopes chili seasoning mix

1/2 tsp ground cinnamon

1 1/4 cups sour cream
Procedure:
Brown meat in large saucepot on medium heat and drain. Add onions and peppers, cook until crisp-tender, stirring frequently. Add all remaining ingredients except sour cream, mix well. Bring to boil, cover. Reduce heat to medium-low, simmer 20 min, stirring occasionally. Top each serving with 2 tbsp of the sour cream.

---
Share this Product
---
More from this collection
Liquid error (layout/theme line 443): Could not find asset snippets/spurit_uev-theme-snippet.liquid