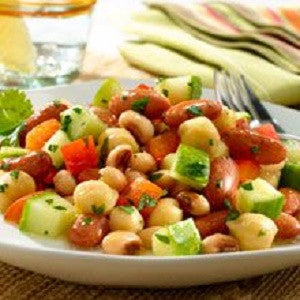 Three Beans Salad, Ensalada Tres Habichuelas Recipe
---
Ingredients:
1 can blackeye peas, drained and rinsed
1 can chick peas, drained and rinsed
1 can Red kidney beans, drained and rinsed
1 medium cucumber, peeled, seeded and chopped 
1 red bell pepper, seeded and finely chopped 
2 tbsp finely chopped fresh cilantro
Dressing:
3 tbsp red wine vinegar
2 packets salad and vegetable seasoning
1 tbsp lemon juice
1/2 cup extra virgin olive oil
Procedure:
In large serving bowl, mix together blackeye peas, chick peas, kidney beans, cucumbers, peppers, and cilantro. In small bowl, whisk together vinegar, salad and vegetable seasoning, and lemon juice. Slowly drizzle in olive oil, whisking constantly, until blended. Pour dressing over bean mixture. Toss well to coat completely and refrigerate.
---
Share this Product
---
More from this collection
Liquid error (layout/theme line 443): Could not find asset snippets/spurit_uev-theme-snippet.liquid