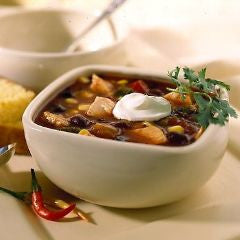 Turkey Soup, Sopa de Pavo Recipe
---
Ingredients:
7 oz mexican salsa roja 
1 can black beans, drained
1 can whole kernel golden corn, drained 
1 cup turkey, cooked and chopped 
2 cups chicken broth
Procedure:
Combine salsa, beans, corn, turkey, and broth in large saucepan. Bring to boil on medium-high heat. Reduce heat. Simmer 5 minutes.
---
Share this Product
---
More from this collection
Liquid error (layout/theme line 443): Could not find asset snippets/spurit_uev-theme-snippet.liquid