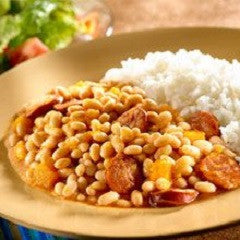 White Beans, Habichuelas Blancas Recipe
---
Ingredients:
1 lb sweet sausage 

1 tbsp. olive oil 

1 small onion, chopped 

4 cloves garlic, minced 

3 strips bacon, chopped 

2 cans 16oz small white beans, drained and rinsed 
2 tbsp sofrito 

1 bay leaf 

1/2 tsp adobo with pepper 

2 tbsp chopped parsley 

1 whole pimiento, cut into strips
Procedure:
Puncture sausages with fork, and sauté in a large skillet in olive oil until well-browned. Remove sausages and set aside. In the same pan, sauté onion, garlic and bacon until bacon is browned. Add beans, sofrito and bay leaf, and simmer 2-3 minutes over low-medium heat, stirring often. Stir in adobo and parsley. Arrange pimiento strips on top. Remove bay leaf.

---
Share this Product
---
More from this collection
Liquid error (layout/theme line 443): Could not find asset snippets/spurit_uev-theme-snippet.liquid