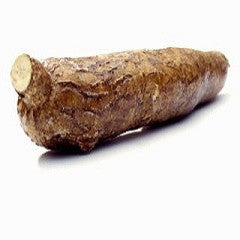 Cassava Chilli, Chilli de Yucca Recipe
---
Ingredients:
3 1/2 lb cassava, (yuca)

salted water 

2 tbsp annatto oil

1 tbsp corn oil 

1/4 cup recaito

1 can 16oz whole tomatoes, drained

1 1/4 cups tomato puree

1 cup tomato sauce
1 can 16oz white beans 

1 1/2 tsp chili powder 
Procedure:
Peel and cube the yuca, boil it on salted water for 25 minutes. Drain and set aside. Heat the annatto and corn oil in a large skillet and add recaito, tomatoes, tomato puree, and tomato sauce. Cook the mixture for 5 minutes over medium-low heat. Add the beans, yuca, and chili powder. Cook for 10 more minutes.

---
Share this Product
---
More from this collection
Liquid error (layout/theme line 443): Could not find asset snippets/spurit_uev-theme-snippet.liquid