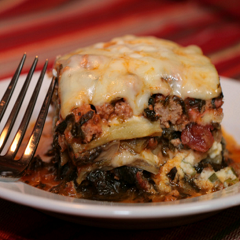 ---
Ingredients:
3 sliced ​​eggplants
3 tbsp olive oil
Salt to taste
Pepper to taste
2 lb sirloin ground beef
1/2 onion in small squares
2 tbsp ground garlic
1/2 green pepper diced
1 lb fresh spinach
2 cups grated cheese
Procedure:
Pre heat the oven to 350 degrees, place the slices of eggplant on a tray and season with olive oil, salt and pepper and bake for 25-30 minutes or until tender and golden brown. Cook the meat in a frying pan with olive oil, onion, garlic, peppers and season with salt, pepper and when cooked add the spinach. In a small oiled mold create layers of eggplant, cooked meat and cheese, repeat until filling, finish with cheese and bake for 35 minutes.
---
Share this Product
---
More from this collection
Liquid error (layout/theme line 443): Could not find asset snippets/spurit_uev-theme-snippet.liquid