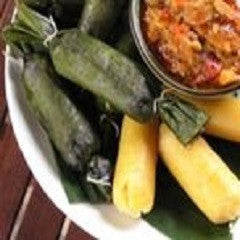 ---
Ingredients:
3 green plantains
1/2 cup coconut milk 
3/4 cup sugar 
1 tsp salt 
Plantain leaves for wrapping
Procedure:
Remove plantain skins. Soak plantains in water for thirty minutes. Remove from water, rinse and dry the plantains. Grate the plantains into a paste. Blend in the coconut milk, salt and sugar. Form each guanime in sausage shape, about 5 inches long and no more than one inch thick. Place on a piece of plantain leaf, folding the leaf at the edges, and wrap with thread. Simmer in chicken broth or water for around thirty minutes. Serve warm.
---
Share this Product
---
More from this collection
Liquid error (layout/theme line 443): Could not find asset snippets/spurit_uev-theme-snippet.liquid