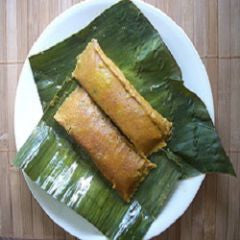 ---
Ingredients:
1/2 cup vegetable oil
1 tbsp annatto seeds
1 1/2 lb lean pork, cut into 1/4-inch cubes
1/4 lb pork cracklings or bacon
3 garlic cloves, minced
1 medium onion, chopped
1 green bell pepper, chopped
6 small sweet green peppers, chopped 
2 medium tomatoes, chopped
4 leaves culantro or cilantrillo, chopped 
2 tbsp oregano, chopped
1 (16oz) can chickpeas
1/3 cup pitted green olives, sliced into thin rounds
1 tbsp capers
2 cups raisins
2 large green plantains
2 green bananas
2 lbs yautia 
1 cup broth
1 tsp salt
Plantain leaves for wrapping or parchment paper
Strings
Procedure:

Add oil in a large skillet over medium heat. Add the annatto seeds and heat for one minute to release their orange color. Remove from heat and drain the oil into a separate container. Discard the seeds and return half of the oil to the skillet. Heat the oil to medium-high heat and add the pork and bacon. Brown for about 5 minutes, stirring occasionally. Add the garlic, onion, bell pepper, small green peppers, tomatoes, culantro, and oregano, and sauté for another 5 minutes. Stir in the chickpeas and olives (with their respective liquids), capers, and raisins. Cover and simmer over low-medium heat for 40 minutes. When done, uncover and allow to cool. Drain the broth into a separate container and set aside. Make the dough by peeling the plantains, bananas and the yautia.  Grate them with a food processor, slowly adding broth to form a smooth mash. It should not be runny. Transfer the purée to a large bowl. Stir in the salt and the remaining annatto oil. Place a banana leaf on a sheet of parchment paper. Drop 1/2 cup of the dough onto the center of the leaf and spread it several inches all around with the back of a spoon. Drop 2 tbsp of the filling a bit off center. Fold each long side and then the ends toward the center and tie with a string and freeze. To cook boil on water at medium-high heat for 40-60 minutes. Serve hot.
---
Share this Product
---
More from this collection
Liquid error (layout/theme line 443): Could not find asset snippets/spurit_uev-theme-snippet.liquid