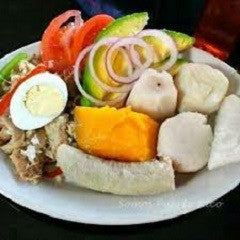 Codfish with Root Vegetables, Viandas con Bacalao Recipe
---
Ingredients:
1 medium yautía 
1 large potato 
1 medium yuca 
1 small ñame
1 lb bacalao 
1 red onion
2 roma tomatoes
1 avocado
Salt to taste
Pepper to taste

White vinegar
Procedure:

Wash, peel, and cube the
yautía
, potato,
yuca
, and
ñame
into equal size pieces. 
Boil the viandas in salted water until fork tender. 
Drain the viandas and place in a salad bowl. 
Stir in the cooked and de-boned bacalao. 
Salt and pepper to taste. Slice the 
onions, tomatoes, avocado and add them to the mix. 
Serve hot or cold and top with olive oil and vinegar.
---
Share this Product
---
More from this collection
Liquid error (layout/theme line 443): Could not find asset snippets/spurit_uev-theme-snippet.liquid