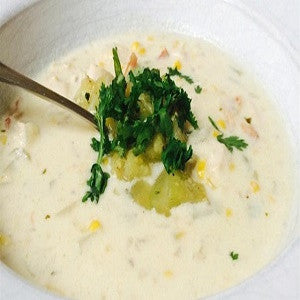 Chicken Corn Chowder Soup, Sopa de Pollo y Maiz Recipe
---
Ingredients:
1 1/2 lb boneless skinless chicken breasts, cut into small pieces

1/2 cup chopped onion

1 clove garlic, minced

3 tbsp butter

2 cubes chicken bouillon

1 cup hot water

3/4 tsp ground cumin

2 cups half-and-half cream

2 cups shredded monterey jack cheese

1 (15oz) can cream style corn

1 (4oz) can diced green chiles

1 dash hot pepper sauce

1 tomato, chopped

fresh cilantro sprigs, for garnish
Procedure:
In a pot, brown chicken, onion, and garlic in butter. 
Dissolve the bouillon in hot water, pour into pot, add cumin and bring to a boil. Reduce heat to low, cover, and simmer for 5 minutes. Stir in cream, cheese, corn, chilies, and hot pepper sauce. Cook, stirring frequently, until the cheese is melted. Stir in chopped tomato. Garnish with cilantro.
---
Share this Product
---
More from this collection
Liquid error (layout/theme line 443): Could not find asset snippets/spurit_uev-theme-snippet.liquid