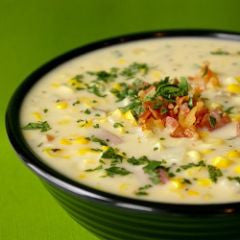 ---
Ingredients:
3 tbsp olive oil
1 cup onions, diced 
1 cup green bell peppers, diced 
1/2 cup flour 
2 cups hot milk 
2 cups water 

8 oz ham steaks, cubed

3 medium potatoes, chopped

1 can (15oz) creamed corn 
1 tsp adobo seasoning
1 pkg sazon without annatto 
2 pkg powdered chicken bouillon 
1 can (15oz) whole kernel corn, undrained 
1/2 tsp black pepper 
1/2 tsp chili powder
Procedure:
Heat oil in a pot on medium and cook onions and peppers until tender. Sprinkle with flour and stir until flour browns. Add hot milk slowly while stirring until mixture thickens. Add remaining ingredients and gently simmer on low until thick and bubbly. Serve hot.
---
Share this Product
---
More from this collection
Liquid error (layout/theme line 443): Could not find asset snippets/spurit_uev-theme-snippet.liquid