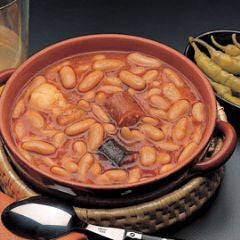 ---
Ingredients:
2 ham hocks 
1 sweet sausage, cut in 1 inch pieces 
6 chorizos 
3/4 lb prosciutto, cut into 1/2 inch cubes 
1 spare rib
Water to cover meats
1/4 tsp thyme 
4 cans goya whtie beans
1 large onion, minced 
2 garlic clove, minced 
1 tbsp olive oil
1 pkg sazon with azafran
1 tbsp paprika
Procedure:
In a large saucepan, combine meats with just enough water to cover. Add thyme, and boil gently, uncovered, for 1 1/2 hours. Do not boil dry. Add beans and simmer for 15 minutes. While beans are heating, sauté onion and garlic in olive oil in a skillet until soft. Add onion, garlic, sazón and paprika to mixture and stir in the meat pot; simmer, uncovered, for 2-3 minutes. 
---
Share this Product
---
More from this collection
Liquid error (layout/theme line 443): Could not find asset snippets/spurit_uev-theme-snippet.liquid