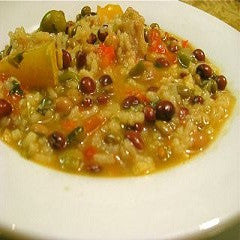 Green Peas Stew, Asopao de Gandules Recipe
---
Ingredients:
2 cans gandules 
8 cups chicken stock 
2 tbsp olive oil 
1/2 cup cooking ham, diced
1/2 cup sofrito
1 cup tomato sauce 
2 cups short-grain rice 
1/2 lb pumpkin, peeled and diced 
Salt to taste
12 olives
2 tbst capers
1/3 cup cilantro, chopped
Procedure:
In a large caldero, combine the gandules and the stock and bring to a boil. On a frying pan add oil and saute the ham for a few minutes, add the sofrito and cook about 4 more minutes. Add tomato sauce and simmer over medium heat for 5 minutes. Add the ham, sofrito and tomato to the stock. Add rice, pumpkin, salt, olives, capers and simmer for 30 minutes, or until the rice is cooked and the soup has thickened. Add the plantain balls 15 minutes before the soup its doen. Add the cilantro just before serving.

---
Share this Product
---
More from this collection
Liquid error (layout/theme line 443): Could not find asset snippets/spurit_uev-theme-snippet.liquid