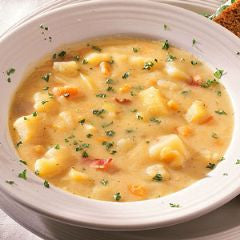 Ham and Potato Soup Recipe
---
Ingredients:
2 ham bouillon
2 cups cooked ham, diced 
1 cup  cilantro, chopped
1 cup  onions, chopped
10 cups water 
5 cups potatoes, peeled and diced
4 cups milk 
1 cup cheddar chesse
Salt to taste
Pepper to taste
Procedure:
In large soup pot, combine bouillon, ham, cilandro, onions and water and cook over medium heat for 15 minutes. Add potatoes and cook until tender, 15 to 20 minutes. Combine milk and cheese in a small saucepan. Cook over low heat, stirring until mixture is combined and warmed through. Add to potato mixture. When thickened, remove from heat and add salt and pepper.
---
Share this Product
---
More from this collection
Liquid error (layout/theme line 443): Could not find asset snippets/spurit_uev-theme-snippet.liquid