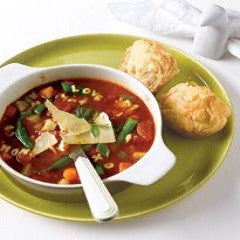 ---
Ingredients:
4 bacon slices, chopped
1/4 cup onion, chopped
1/2 cup carrots, diced
1 cup zucchini, diced
1 garlic clove, minced
1 can small white beans
1/2 cup fresh peas
1 cup plum tomatoes, diced
2 beef bouillon
8 cups water
Parmesan cheese to taste
Procedure:
In a large pot, saute bacon until crisp, then reserve for topping. Drain the bacon drippings, leaving about 1 tbsp. in the pan and lightly saute the onion, carrots, zucchini and garlic. Add beans, peas, tomatoes, bouillon and water. Bring to a boil, reduce heat and simmer for 10 minutes. Sprinkle with bacon and parmesan cheese.
---
Share this Product
---
More from this collection
Liquid error (layout/theme line 443): Could not find asset snippets/spurit_uev-theme-snippet.liquid