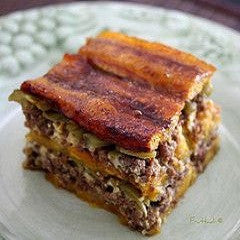 Ripe Plantains Pastelon Recipe
---
Ingredients:
1 lb ground beef

5 ripe plantains

6 eggs

Olive oil

1 tbsp sofrito

3 pieces sweet peppers

2 tbsp alcaparrados

1/2 onion

4 garlic cloves

1/2 cup tomato sauce
Procedure:
On a skillet saute sofrito, peppers, alcaparrados, onion, garlic and tomato sauce with a little olive oil for about 2 minutes. Add the meat and cook at low heat, season with adobo. Peel and cut the ripe plantains in long slices, fry the ripe plantains in a skillet with oil, fry them on both sides until brown. Mix 3 eggs and season with adobo. On an ovenproof dish cover the bottom with a layer of ripe plantains, one layer of ground beef, another layer of ripe plantains and pour the mixed eggs over the top. Cook in the oven for 35 minutes at 350 degrees or until eggs are cooked.

---
Share this Product
---
More from this collection
Liquid error (layout/theme line 443): Could not find asset snippets/spurit_uev-theme-snippet.liquid