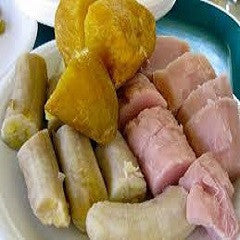 Root Vegetables Soup, Sopa de Viandas Recipe
---
Ingredients:
1 medium yautía 
1 green plantains
1 medium yuca 
1 small ñame
2 cups pumpkin
2 cups malanga
8 cups chicken broth
2 tbsp sofrito
Salt to taste
Pepper to taste
Chopped cilantro for garnish
Procedure:

Wash, peel, and cube the yautía, plantain, yuca, ñame, pumpkin and malanga into equal size pieces. Boil the viandas with the chicken broth and add the sofrito, stir well and cook for 15 minutes or until fork tender. Transfer to a blender and mix in batches. Salt and pepper to taste and garnish with cilantro.

---
Share this Product
---
More from this collection
Liquid error (layout/theme line 443): Could not find asset snippets/spurit_uev-theme-snippet.liquid