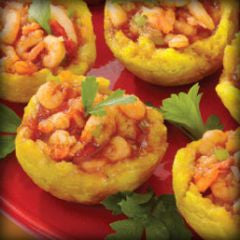 Stuffed Tostones with Shrimp Recipe
---
Ingredients:
4 green plantains
Corn oil
2 lb medium shrimp, peeled
2 tbsp olive oil 
3 garlic cloves, crushed 
1/4 lb smoked ham, diced
1/8 cup sliced scallion 
1/8 cup cilantro, chopped
1/4 cup manzanilla olives, chopped
1/2 lime juice 
1/2 cup tomato puree
1/2 cup tomato sauce 
Procedure:
Heat the olive oil in a large skillet. Saute the garlic, ham, scallion, cilantro, olives, juice, tomato puree and tomato sauce over medium heat for 5 minutes. Add the shrimp and cook until they turn pink. Set aside. Peel the plantains and cut them into 1/2-inch slices. Heat the corn oil and cook the plantains until golden brown. Take them out of the oil and crush with a filling tostonera. Then cook again until they are as crisp on the outside and soft inside. Fill the tostones with the shrimp stuffing and serve.
---
Share this Product
---
More from this collection
Liquid error (layout/theme line 443): Could not find asset snippets/spurit_uev-theme-snippet.liquid