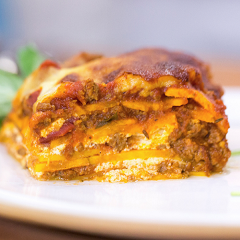 Sweet Potato Pastelon Recipe
---
Ingredients:
2 lb ground turkey
3 tbsp olive oil
Salt to taste
Pepper to taste
Cumin to taste
1 cup diced peppers
1/2 onion, diced
2 tbsp ground garlic
1/2 diced zucchini
Fresh herbs to taste
2 lb sweet potatoes boiled and mashed
2 egg yolks
1/2 stick of butter
2 cups grated cheese
Procedure:
In a frying pan add olive oil and sauté the meat and season with salt, pepper and cumin, add the peppers, onion, garlic and zucchini, sauté well and season, finish with fresh herbs. In a container mix the sweet potatoes, yolks and butter and season to taste. Grease a mold and begin to create layers of sweet potato, beef and cheese until filling the mold. Bake at 350 degrees for 25 minutes, let stand and serve.
---
Share this Product
---
More from this collection
Liquid error (layout/theme line 443): Could not find asset snippets/spurit_uev-theme-snippet.liquid