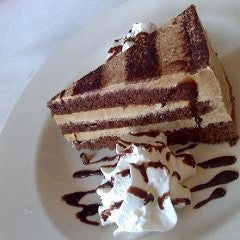 Cappuccino Cheesecake Recipe
---
Ingredients:
16oz cream cheese, softened

4 eggs 
1/4 cup strained coffee 
2 tsp coffee liquor 
1/2 cup sugar 
1/2 cup cream 
1 cup nuts
1 pie crust 
Procedure:
Preheat oven to 375 degrees. In a food processor blend the cream cheese with the eggs and mix until creamy. Add the strained coffee, coffee liquor, sugar and the cream. Pour into the pie base and top with nuts. Bake for 40 minutes. Refrigerate overnight.
---
Share this Product
---
More from this collection
Liquid error (layout/theme line 443): Could not find asset snippets/spurit_uev-theme-snippet.liquid