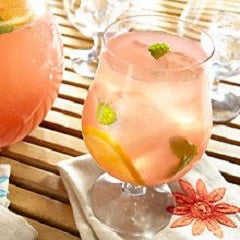 ---
Ingredients:
2 cans (11 oz) coconut water
2 cans (9.oz) guava nectar
1 1/2 cup light rum
1 orange, thinly sliced
1/4 cup fresh mint, torn into small pieces
2 cups champange
Procedure:
In large pitcher, stir together coconut water, guava nectar, rum, orange slices and mint. Transfer pitcher to refrigerator until ready to drink. Right before serving, add champagen. Pour into tall glass with ice. 
---
Share this Product
---
More from this collection
Liquid error (layout/theme line 443): Could not find asset snippets/spurit_uev-theme-snippet.liquid