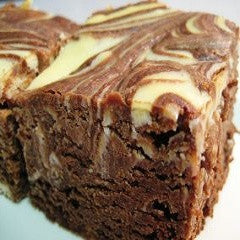 ---
Ingredients:
4 squares unsweetened chocolate
1 1/2 stick butter
2 1/3 cups sugar
5 eggs
3 tbsp instant coffee
1 tsp vanilla extract
1 1/4 cup flour
8 oz cream cheese
2 tbsp flour
1/2 tsp ground cinnamon
Procedure:
Preheat oven to 350 ° F. Heat chocolate and butter in large microwaveable bowl for 2 minutes, until melts. Mix the butter until the chocolate is melted, add 2 cups of sugar, 4 eggs, coffee and vanilla. Add flour and mix. Spread the mixture into a greased baking dish 13x9 inch. Beat cream cheese, the remaining 1/3 cup sugar, the remaining egg, 2 tbsp of flour and cinnamon in the same bowl until blended well. With a spoon add the mixture over the cake mix, run a knife by mixtures to make the marble effect. Bake for 40 minutes or till knife inserted comes out clean. Let cool in pan, cut into 24 biscuits.
---
Share this Product
---
More from this collection
Liquid error (layout/theme line 443): Could not find asset snippets/spurit_uev-theme-snippet.liquid