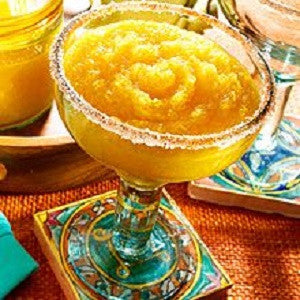 Mango Margaritas, Margaritas de Mango Recipe
---
Ingredients:
1 1/2 cups ice cubes
3/4 cups tequila 
1/2 cup mango pulp
1/4 cup lemon juice
1/4 cup orange liqueur
1 tbsp sugar
Salt
Cayenne Pepper (optional)
Procedure:
Pour salt onto small plate, mix with pinch of cayenne pepper so salt is speckled with red. Moisten rims of margarita glasses with a damp towel; dip glasses in salt mixture, tapping off excess. In a blender, add ice cubes, tequila, mango pulp, lemon juice, orange liqueur and sugar. Blend until mixture is combined and ice is crushed. Pour frozen margaritas into glasses, serve immediately.
---
Share this Product
---
More from this collection
Liquid error (layout/theme line 443): Could not find asset snippets/spurit_uev-theme-snippet.liquid