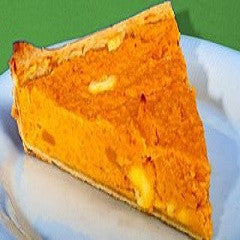 Pumpkin Pineapple Cake Recipe
---
Ingredients:
1 cup pumpkin puree 
8oz pineapple (drained)
4 tbsp melted butter 
2 eggs 
1 tsp vanilla extract 
2 cups all purpose flour 
1 1/2 cup sugar 
1 tsp baking powder 
1/4 tsp ground cinnamon 
1/4 tsp ground ginger 
1/4 tsp ground nutmeg 
1/4 tsp pepper powder 
1/8 tsp salt 
Procedure:
Preheat oven to 350 °.  Mix pumpkin, pineapple, butter, eggs and vanilla in a mixer. In a small bowl combine flour, sugar, baking powder, cinnamon, ginger, nutmeg, pepper and salt, then pour it slowly to the mixture of the liquid ingredients, whisk to incorporate only. Spread the mixture into a greased baking dish 13x9 inch and bake for 20min or till knife inserted comes out clean. Let cool slightly and serve.
---
Share this Product
---
More from this collection
Liquid error (layout/theme line 443): Could not find asset snippets/spurit_uev-theme-snippet.liquid