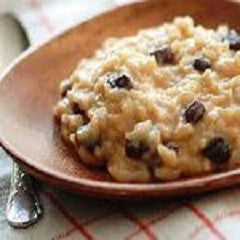 Sweet Rice, Arroz con Dulce Recipe
---
Ingredients:
2 cups short-grain rice 

2 cups water 

2 pieces of 1 inch ginger 

2 cinnamon sticks

20 sweet nails 

7 cups coconut milk 
7 1/2 oz cream of coconut 

1/2 tsp salt 

lemon peel 

2 cups brown sugar 

2 oz raisins 

cinnamon 
Procedure:
Soak the rice in water to cover it for 1 1/2 hour. Boil 2 cups of water and add washed and crushed ginger, cinnamon and sweet nails, until reduced to 1 cup of liquid and then strain. In a pot or cauldron of 11 inches in diameter, mix milk, coconut cream, salt, drained and washed rice, the strained liquid and lemon peel. Simmer covered until the rice its tender, move occasionally. When simmer add the sugar and raisins and stir constantly until sugar melts. Serve on a plate, add ​​cinnamon on top and refrigerate.
---
Share this Product
---
More from this collection
Liquid error (layout/theme line 443): Could not find asset snippets/spurit_uev-theme-snippet.liquid