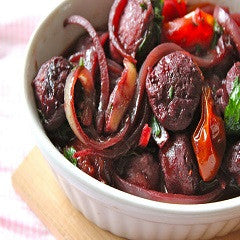 Chorizos in Pineapple Sauce Recipe
---
Ingredients:
4 chorizos
2 tbsp olive oil
2 cups pineapple juice
1/2 cup brown sugar
1/2 cup fresh diced pineapple
Procedure:
In a saucepan, heat the olive oil and cook the sausages for about 3 to 4 minutes on each side. Remove and set aside. In a saucepan, place pineapple juice, diced pineapple and brown sugar. Bring the mixture to a boil for about 15 to 18 minutes until it reaches syrup consistency. Cut sausages on wheels and top with the sauce.
---
Share this Product
---
More from this collection
Liquid error (layout/theme line 443): Could not find asset snippets/spurit_uev-theme-snippet.liquid