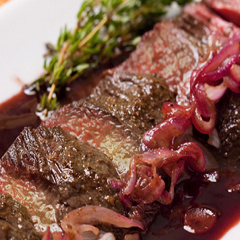 Churrasco in Wine and Tamrind Sauce Recipe
---
Ingredients:
4 churrascos
Salt to taste
Peppert to taste
3 tbsp olive oil
1 ​​small red onion sliced
1 tbsp ground garlic
1 tsp tomato paste
1 1/2 cup red wine
1/4 cup tamarind concentrate
1 tbsp butter
2 sprigs fresh thyme
Procedure:
Season the churrascos with salt and pepper. Preheat a frying pan with olive oil and over high heat seal the churrascos for 2 minutes on each side. Lower the heat and cook for 2 to 3 additional minutes on both sides. Remove them and let them rest. In the same pan saute the red onion and the garlic for 1 minute, add the tomato paste and sauté for 1 minute more. Then add the wine, boil the wine and reduce in half. Add the tamarind concentrate. Boil for 3 minutes or until sauce thickens. Finish the sauce with the butter and thyme. Season to taste with salt and pepper. Pour sauce over churrascos.
---
Share this Product
---
More from this collection
Liquid error (layout/theme line 443): Could not find asset snippets/spurit_uev-theme-snippet.liquid