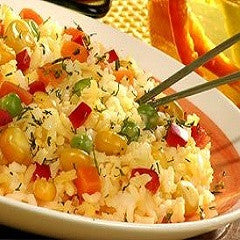 Arroz a la Jardinera Recipe
---
Ingredients:
2 tbsp olive oil
1 onion, diced
1 red pepper, diced
2 garlic cloves, crushed
3 cups water
2 tbsp cooking oil
1 lb rice
1 tsp anniato oil (achiote)
3 tomatoes, diced
1 cup string beans, diced
1 carrots, diced
2 cups pumpkin, diced
Salt to taste
Procedure:
On a caldero add the olive oil and saute the onion, pepper and garlic. Add the water and cooking oil. Bring to a boil. Add rice, anniato oil, tomatoes, beans, carrots, pumpkin, salt to taste and simmer on meduim high uncovered until the water evaporates. Blend the rice from the bottom to the top and viceversa. Cover and cook over low heat until the rice is tender. 
---
Share this Product
---
More from this collection
Liquid error (layout/theme line 443): Could not find asset snippets/spurit_uev-theme-snippet.liquid