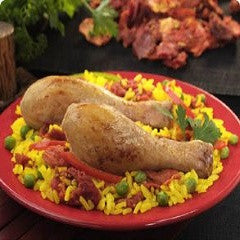 Chicken Paella, Paella de Pollo Recipe
---
Ingredients:
4 lbs chicken cut in pieces 

1 tsp goya adobo with pepper
3 tbsp olive oil 

3 cloves fresh garlic, minced 

1 cup onion, finely diced 

3/4 cup green pepper, finely diced 

3 cups water 

1 packet sazón goya with azafran

1/4 cup alcaparrado, sliced 

1 1/2 cups long grain rice 

4 on sliced pimientos
Procedure:
Season the chicken with adobo. In a caldero or large heavy pot, heat oil on medium. Cook the chicken until brown on all sides. Set aside. Stir in minced garlic, onion, and green pepper and cook until tender, about 5 minutes. Add the rice and cook for 1 minute, stirring constantly. Add water, sazón and bouillon and cook on high heat until the water has just about cooked out. Add the alcaparrado and chicken. Stir, cover, reduce heat to low, and simmer for 25 minutes or until rice is tender. Stir again and serve with pimiento strips for garnish.
---
Share this Product
---
More from this collection
Liquid error (layout/theme line 443): Could not find asset snippets/spurit_uev-theme-snippet.liquid