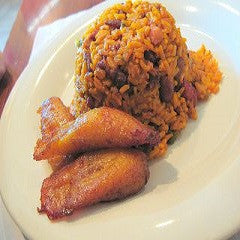 ---
Ingredients:
1 tbsp olive oil
1/2 cup chopped lean ham
1/2 cup chorizo sausage, optional
1/2 cup chopped onion
1/2 cup green bell pepper
Pepper to taste
2 cloves garlic, minced
1 tsp ground cumin
1 (15oz) can red kidney beans, rinsed
8 oz tomato sauce
1 tbsp tabasco sauce
2 cups uncooked white rice
4 cups water
Salt to taste
Procedure:
Over medium heat, heat oil in a large saucepan. Add ham, chorizo, onion and green pepper, garlic and cumin. Sauté until vegetables are tender. Add beans, tomato sauce and tabasco sauce. Simmer for 5 minutes. Add rice, water and salt, bring to boil. Reduce heat, cover and simmer until rice is tender.
---
Share this Product
---
More from this collection
Liquid error (layout/theme line 443): Could not find asset snippets/spurit_uev-theme-snippet.liquid