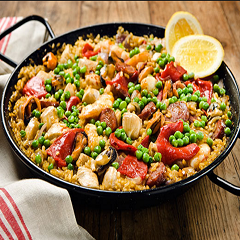 Chicken Rice Paella Recipe
---
Ingredients:
6 chicken thighs cut into quarters

Salt to taste

Pepper to taste

Cumin to taste

2 chorizo on wheels

1 diced onion

1 red pepper in small squares

1 green pepper in small squares

2 tbsp ground garlic
1 tsp saffron
1 tbsp paprika
1 tbsp tomato paste

2 cups of parboiled rice

4 cups chicken broth

1/2 cup green peas
Procedure:
Season the thighs with salt, pepper and cumin, add oil in a paella pan and brown the thighs. When the thighs begin to take color add the chorizo ​​and the onion, peppers and saute for 3 min. Add the garlic, saffron and paprika, tomato paste and sauté for 2 min. Add the rice, mix with the rest of the ingredients and add the broth and bring the preparation to a boil. Once the liquid has evaporated cover and cook on low heat for 20 min. Once ready, let stand 5 min. And decorate with peas.
---
Share this Product
---
More from this collection
Liquid error (layout/theme line 443): Could not find asset snippets/spurit_uev-theme-snippet.liquid